THE WAREHOUSE $349.95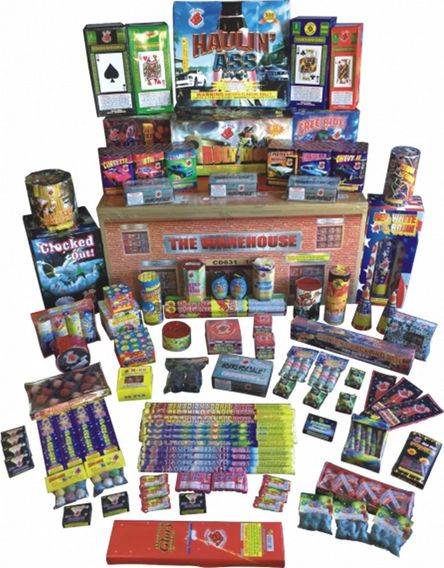 You want it, you got it, full access to The Red Rhino Warehouse! This time tested favorite redefined what big assortments are all about in 2010 and now it sells out each year. This beast of a box contains items from nearly every product line we carry. It includes a "kiddie" box inside that protects and holds all the little items together. Built to be durable and transportable the outer shells is made of ¾" thick honeycomb cardboard for the walls, bottom and lid. It also has anchored rope handles on each side. With over 1,300 individual fuses to light plus 400 throw snaps and a dozen party poppers this will keep customers of all ages busy all day.
It contains 5 top selling 500G cakes, 14 top selling 200G multi-shots, 5 artillery shell kits, 11 fountains, 5 saturn missile batteries (3 varieties), 30 roman candles (multiple varieties), novelties, flying items, spinning items, firecrackers (4 varieties), smoke and sparklers. The items are all full line Red Rhino private label items - no generic Chinese "assortment" items are used to fill this kit. The Warehouse is the best designed all-inclusive family packs in the fireworks business today.